Philanthropy
Our brothers need our help. California kids need our help, too.
Our brothers need our help. California kids need our help, too.
When help is needed, Masons provide it. We've supported schools and aided hospitals. We've sent kids to college and looked after our brothers and their spouses in their golden years. Today, we're putting that tradition to the test with our biggest challenge in years. We call it "Let's Write the Future."
We need to build memory and advanced care facilities for our most vulnerable.
Today, our brothers and their spouses at the Masonic Homes may be forced to live apart to access the memory care and advanced medical services they so greatly need – in their most desperate hour. Our vision: to build and expand the memory and advanced medical care services we offer at our Masonic Homes campuses. Residents must not be separated from their supportive, nuturing, communities during the most vulnerable time in their lives. It is now that we can make a dramatic difference – and we must heed the call to help.
We need to double the number of children and families that we help throughout the state.
Studies show that if a child can't read at grade level by third grade, it's impossible for him or her to ever catch up. We proudly support Raising A Reader, which helps children and their families develop strong literacy habits that impact their comprehension, vocabulary, and listening skills – breaking multigenerational cycles of illiteracy. This program can't currently reach all the kids in California who need it. The "Let's Write the Future" campaign will raise $2,500,000, which will double the program to 1,000 classrooms – and ensure more young Californians can look forward to a brighter future.
Will you heed the call of those in need? Let's write the future – give today.
Click here, to be taken to the Grand Lodge of California's Secure Giving page.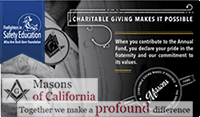 100 In for $100 Program
This is a campaign to recognize the first 100 Brothers and Ladies to donate $100 or more through the Lodge in support of San Diego Lodge No. 35's committment to Let's Write the Future. Remember, for our lodge to be recognized for the contribution, your donation must come through our lodge. Additionally, your donations, will be recognized in the Master Mason and you'll be added to the 2021 Leader Board for the San Diego Lodge No. 35 100 In For $100 Campaign.
Within this drive, we will also be recognizing different donation levels
Bronze : $100 up to $499
Silver : $500 up to $999
Gold : $1000 up to $4,999
Platinum : $5000 plus
Remember, your donations must be through our lodge for San Diego Lodge No. 35 to be recognized for their support of
Let's Write the Future
.
Donating is easy. Simply contact our Lodge Secretary with a check or donate safely and securely online below using our online PayPal option.
$100 - Bronze


$500 - Silver


$1,000 - Gold


$5,000 - Platinum


Custom Amount


San Diego 35 Philanthropic Fund
The San Diego 35 Philanthropic Fund is to fund individual and community projects congruent with Masonic Principals benefitting the San Diego metropolitan region for which San Diego Lodge No. 35 will receive recognition.
Please download and fill out the Philanthropic Fund Application Form and return to San Diego Lodge No. 35 for review and consideration.